Drink Recipes
As a new feature starting in 2011, we are featuring a special drink recipes. We will concentrate on classic cocktails and new drink recipes. Here we feature an original Orlando Spirits drink recipe:
Florida Sunshine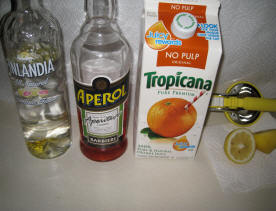 1½ ounces Finlandia Grapefruit vodka
¾ ounce Aperol
1 ounce orange juice (such as no-pulp Tropicana)
1 ounce fresh-squeezed lemon juice
Shake with ice cubes in a cocktail shaker and
pour with ice into an Old Fashioned Glass.
If you like grapefruit juice, you will love the Florida Sunshine cocktail. This recipe was inspired by a drink called the Luce Del Sole which is included in a book called The Modern Mixologist by Tony Abou-Ganim with Mary Elizabeth Faulkner. That recipe calls for fresh-squeezed orange juice and also adds honey syrup as a sweetener. However, we like it better without any sweetener and think it works just as well with Tropicana. By the way, Finlandia Grapefruit vodka is a key ingredient. It is one of the best flavored vodkas out there (and is actually one of just of a handful of flavored vodkas that are worth buying).
*****************************
Copyright © 2011, OrlandoSpirits.com. All Rights Reserved.
This page last modified on 12/01/11